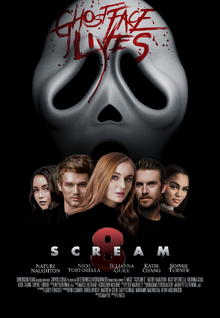 SCREAM 8 (2018) is an upcoming Scream fanfiction by author Cman710, currently slated for a 2018 release date. It is a direct sequel to SCREAM 4, SCREAM 5, SCREAM 6, and SCREAM 7.
Ten years after the events at Milton Mansion, STAB is a near dead franchise about to be resurrected in the form of a brand new TV Series. But just as Trevor, Carmen, and Jamie feel as though they can finally move on in their lives, the unthinkable happens. The night of the premiere, a brutal murder sends shockwaves through the small town they have settled in. A murder that becomes the start of another killing spree. With the survivors, a group of teenagers, and the whole town caught in the crossfire, a new mystery begins to unravel in Collins County. Who is behind the legendary mask of Ghostface? And is this merely the beginning of a new legacy of terror?
READ IT HERE
Edit
COMING SOON
COMING SOON
CAST AND CHARACTERS
Edit
NICO TORTORELLA as Trevor Riley
NATURI NAUGHTON as Carmen Riley
JULIANNA GUILL as Jamie Sheldon
NOAH GREY-CABEY as ROMAN RILEY
CAMERON BOYCE as ROBBIE RILEY
KATIE CHANG as VALERIE "VAL" TRAN: The leading role among the new teens. Described as a "fierce and sarcastic girl with a haunted past".
SOPHIE TURNER as DIANE BELLER: Val's best friend, tough and fun. She's described as a "Tatum with modern sensibilities".
BRANDON FLYNN as CURTIS MERRING: Val's intense, caring, and friendly boyfriend - the high school's star quarterback.
CAMERON MONAGHAN as PATTON OLIVER: The goofy sidekick to Curtis' "tough guy". Diane's doting and loving boyfriend.
CHINA ANNE MCCLAIN as DESTINY MARTIN: A sassy, strong willed young woman who runs the school's local radio station.
GEORGIE HENLEY as BETTY ANDREWS: The local prankster whose "charming" pranks can get her into bad situations.
ADAM DEVINE as BRIAN OSWALD: Jamie's personal assistant and agent. A bit of a snarker that has a thing for Jamie herself.
HALSTON SAGE as LANEY SPARKS: A bitchy, loud mouthed girl described as a third wheel to Val and Diane.
DAN STEVENS as DEPUTY SAM KESSLER: A straight-laced, hard edged cop and Trevor's right hand man. The girls' swoon but he plays for a different team.
ELLEN PAGE as DEPUTY ANGELA SWEENEY: The hard working and smart new addition to Trevor's police force.
KJ APA as DONNIE MONTASH: An artsy, friendly lone wolf with a kind disposition but a sarcastic nature.
STANLEY TUCCI as JACOB KRAMER: The high school's favorite teacher, of media studies. A bit of a "friend to all" type.
CREDIT WHERE ITS DUE
Edit
That amazing first cast poster for the script is by ITSMEBILLY/DEREK!
POSSIBLE SEQUELS
Edit
As of this moment, Cman710 has confirmed his plans for Scream 8 to launch a new trilogy. With both Scream 9 and Scream 10 in active development. He has expressed interest in bringing Sidney Prescott, Ross Hoss, and Dewey Riley back in future sequels though nothing is set in stone.
Confirmed as the start of a "sequel trilogy" in the Trevor RIley universe.
The first official "sequel trilogy" to a Cman710 series.
Sidney Prescott, Ross Hoss, and Dewey Riley are not confirmed as returning.